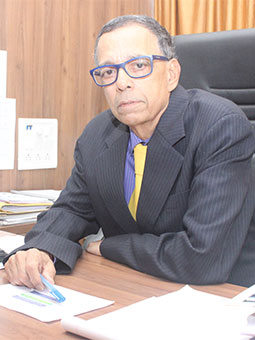 Dr. N. S. Rajan
Dean
Message
The business of Business is to add value. At Atharva, we not only prepare students to add value to the society through the committed application of their skills and attitude but also inculcate a passion for excellence.
For close to a decade, the Atharva Institute of Management Studies has been singularly committed to making a difference in management education. Today, we are one of the fastest growing Management Institutes in India with a formidable reputation for industry interface. The secret of our success is largely due to our students who have taken AIMS to greater heights of glory by making a mark in the industry. Having armed themselves with an undoubted skill set and an uniquely different way of thinking, they have stormed the citadels of Enterprises, proving themselves as truly value focused Managers.
In fact, our students not only thrive under the cult of competition but also, through the fully rounded pedagogy of AIMS, stand ready to step in as solutions oriented management professionals. Our custom designed curriculum helps students understand the shifting sands of the industry and help them carve out an identity in the worlds vast business landscape. Today, AIMS is ranked high in the list of Business Schools in the country and our close links with the Industry has helped us build a symbiotic relationship with the corporate world. With a Faculty that is drawn from the best in the business backed in turn by truly World-class infrastructure, learning blooms in the most fertile of environments. The ambience of the campus is equally well known and is an apt setting to the Culture of Excellence that Atharva has promoted all these years.
Our task is to help you translate your aspirations into reality. It is your desire to excel that drives us and we get better every moment. But we believe quality is a moving target and the focus of AIMS is to never stop hitting the Bulls-Eye even as Quality Target moves.
Copyright © 2018 AIMS | All Rights Reserved. | Privacy Policy